Boston Coronavirus Signage
For every business type, the proper mix of signs and graphics will considerably affect your business success, especially as we face Covid-19 here in Boston. From assisting guests with intuitive wayfinding to motivating your team, your sign and graphic blend keep operations running smoothly.
Identifying the right, informative coronavirus signage can be a challenge. There are a number of components that need to be taken into consideration, such as your customer and staff support goals, how clients and customers navigate and utilize your facilities, relevant local signage laws, and even the wear and tear you expect your signs to experience all impact the number and type of commercial signs you pick for your business.
Your local signage experts, Ardon Visual Communications understands how effective signs and graphics can be used to manage customer flow, support or protect your staff, and promote brand recognition. By creating impactful informative signage components that are specific to your business, location, and goals, our experts can help you with raising your business or organization to greater heights.
Call Ardon Visual Communications today at (781) 590-3373 for a Free Consultation!
Wayfinding & Safety Hospital Signs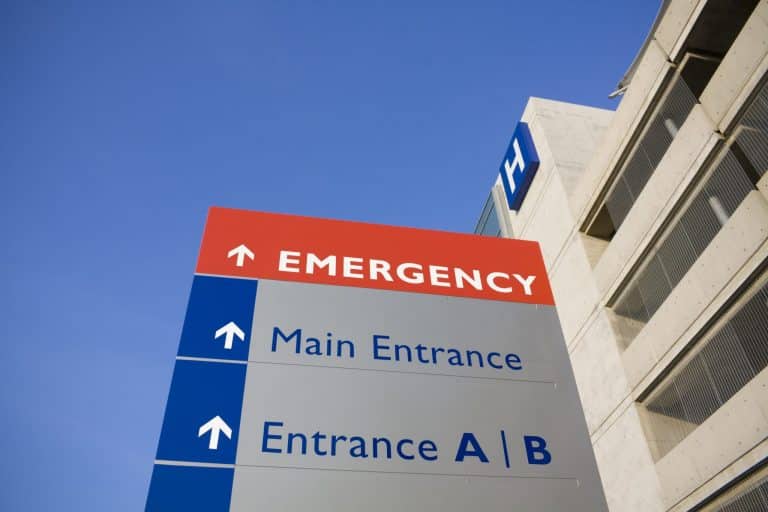 When your hospital is facing a medical crisis such as Covid-19, it's vitally important that new patients and doctors, nurses, and other healthcare providers understand where to go and the shortest or safest way for getting there. Eye-catching directions, instructions, and warnings ideally should be displayed prior to your patient ever walking inside the medical center. This explains why hospital signage and wayfinders are so incredibly significant. Effective signage can assist with more streamlined facility navigation, serve as a reminder to embrace healthier hygiene habits, and lower the possibility of further spreading the infection by minimizing physical contact.
Clearly indicate proper parking areas and guide inbound patients by providing assistive directions utilizing helpful hospital signs and wayfinders by Ardon Visual Communications. To increase your sign visibility for patients showing up at all hours, we deliver eye-catching reflective signs and graphics. Interior hospital signs and graphics can be as uncomplicated as more hand washing notices, reminders of safety practices and procedures, and additional directional support signage to reduce person to person interaction.
Whether you want to provide easy parking and drop-off support or help keep your patients that require care for health conditions besides Covid-19 stay infection free, signs and graphics can help you with cutting down on health concerns for you, your loyal team of health specialists, and your patients who put their faith in you to provide safe services.
Assisted Living & Nursing Home Signage
When nursing homes are faced with a medical emergency situation like the coronavirus, in particular Covid-19, it is very important that incoming residents and healthcare professionals are aware of where to go and how to get there. Eye-catching directions, instructions, and warnings need to be evident prior to a patient ever stepping in the nursing home or assisted living facility.
The ability to minimize contact explains why nursing home signs and graphics and functional wayfinding signs are so essential. Helpful signage can support streamlined and faster patient service, operate as a reminder to comply with safer habits, and decrease the risk of further spreading illness by limiting in-person interactions.
Supportive indoor nursing home signs can be as straight forward as more hand washing signs, reminders of new security and safety practices and procedures, and increased directional assistance signs in order to cut back on human interactions. Well-crafted signs and graphics will help decrease risks for you, your hardworking staff of health practitioners, and your patients.
Business Update Signage
Is your business going through updates to they way your business operates or your hours of operation as a effect to Covid-19 or the coronavirus? Well-crafted, impactful signs and graphics help your customers and clients identify the best way to still do business with you while dealing with the restricted movement and interaction we are all experiencing.
If you'd like to reroute your customers to a drive-thru or pick-up area, provide important information with regards to changes in your hours of operation, or display updated contact details your visitors can use to reach out to you anytime your physical location is not available for drop-by customers, Ardon Visual Communications supplies assistive commercial sign, graphic, and banner elements to support you during these challenging days.
Our professionals create restricted exposure signage components, which means we can manufacture your requested signage components, even including skilled installation at your business, without any physical interaction. Since health recommendations are evolving swiftly in response to Covid-19, we are offering speedy fabrication on basic functional sign elements, and after we have you established as an existing client, we can produce current signage products with nothing but an email or simple phone conversation with the requested updates.
Every Sign Your Business Needs!
You can always rely on Ardon Visual Communications to create branded hospital, safety, and wayfinding signs and graphics. Whether you need temporary or adjusted sign elements to communicate to customers and prospects about your hours, contact details, or other important business information that may require adjustments during the coronavirus, or are making use of the quiet renovate your signage without impacting business operations, Ardon Visual Communications creates high-quality commercial sign, graphic, and banner solutions to assist you.
From informative banners to department signs, our specialists understand the unique and specific desires of different niches and different businesses. Our specialists take into account your corporate goals, physical space and facilities, and brand personality and guidelines so we can produce the most appropriate combination of signage elements for your commercial branding needs.
If you want one graphic or a complete assortment of branded retail signage, Ardon Visual Communications will take on the entire Boston signage project for your business.
Our commercial sign services include:
Free Expert Signage Consultation
Ardon Visual Communications is committed to providing the help you need as we navigate this confusing period in time. Our dedicated, accomplished staff is prepared to conceptualize and develop the branded, custom Boston commercial signs you need to assist with wayfinding, brand identification, product promotion, or customer service.
Call Ardon Visual Communications today at (781) 590-3373 for your Free Consultation with a Signage Expert!