Westwood Vinyl Signs
VIEW GALLERY
Want to add impactful graphics, branding, custom messaging, or your logo to virtually any smooth, flat surface? Whether you desire eye-catching window graphics, wayfinding floor graphics, or even wall murals, your Westwood vinyl signs experts at Ardon Visual Communications have the high-quality, durable graphic solutions you seek.
Impactful vinyl banners, and graphics produce increased promotional assistance and brand recognition for your developing organization. When searching for a method to keep generating interest for your shopfront, assisting prospective clients when navigating your space, and boosting interest in your sales or promotions, our workforce of vinyl signage specialists delivers outstanding vinyl signs and graphics for your goals.
We are an experienced complete custom signs, banners, and graphics vendor, providing your business customized sign and banner solutions, including design, production, and installation. We are able to easily provide personalization for all of the high-impact signs and graphics you need.
If it's durable, eye-catching lettering, floor graphics, decals, banners or a complete signs and graphics collection you want for your facility, our vinyl signage team will tackle your custom signs and graphics project with experience, speed, and we pay attention to each and every detail.
Call Ardon Visual Communications at (781) 590-3373 for your Free Consultation with a Vinyl Graphics Specialist!
Promotional Vinyl Banners
From hanging on your storefront to announce your grand opening to supporting your sales team at a tradeshow or convention, banners are a versatile, functional signage element that every business is bound to utilize as a method of brand and business support.
Ardon Visual Communications is a complete vinyl banner production company, creating attractive, durable banners in all shapes, sizes, colors, and with all methods of display. From large-format hanging banners to retractable banners, for both indoor and outdoor use, we determine the appropriate size, materials, and can even assist with design to ensure your banners are easy to see, read, and understand.
If you want a high-impact, affordable method for promotion, banners are a go-to favorite that every Westwood, MA business can use to support their brand, growth, or operations.
Window Vinyl Clings & Film
It's clear that retailers have a lot of time and effort invested in their custom front window displays. A memorable window display is built to pull motivated potential customers inside your business. When you're marketing a special promotion, sale, or event, or wish to increase sales of a hot, new item, branded window displays are a perfect way to accomplish this.
Primarily, custom branded window displays are refreshed with the seasons to accentuate the hottest products you have to offer. Ardon Visual Communications provides brand-building window signs, graphics, and full displays to showcase your sales events and high-ticket products in a high-quality way that will draw in more visitors.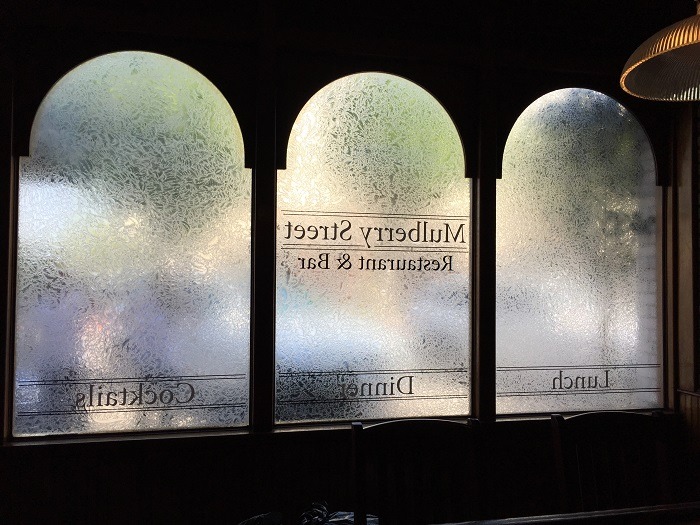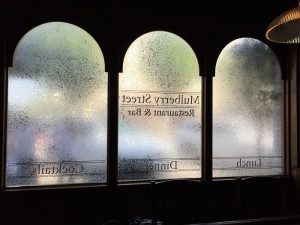 Office buildings, including service professionals, real estate agents, insurance brokers, law firms, counselors and therapists, and many other business types and niches, apply durable vinyl window film on their business exterior windows for privacy, branding, or promotional applications. Our experts provide privacy film that offers the same visual appeal as a custom etched glass windowpane, without the hassle and high price of replacing entire glass panels.
Incorporating your company name, logo, and other branding elements within your privacy film is a fantastic method for increasing your brand visibility while maintaining appeal. Our dedicated signage professionals manufacture high-quality, durable privacy film specifically for your company, or provide samples of commonly used vinyl film possibilities that will support your branding needs.
Cut Vinyl Lettering
Cut vinyl window and door lettering is more than just functional; it can also be exciting and attractive. Customize your business windows and doors with strong personalized messaging, seasonal deals, corporate information, or accentuate your window displays with custom multidimensional components. The versatility supplied by individual graphics and letters makes it easy to modify the font, color, and size of your lettering to give that funky or elegant look and feel you've always hoped for.
Brand cohesive vinyl window lettering shows potential shoppers that your store is open for business and that you care about your business image. If you care about your brand and business, it is obvious that you care about the quality of the goods, products, and services you deliver.
Ardon Visual Communications helps you display your professionalism with affordable and impactful cut vinyl lettering and expert installation for maximum appeal. We individualize all of our custom signs, graphics, and vinyl lettering to complement your business style, ensuring that you receive the right blend of vinyl graphics to fit your brand instead of the templated results advertised by other companies.
Wall Murals & Floor Graphics
A good choice for business and marketing use, vinyl wall murals can change a bland hallway into a visual display of your company history, can even prominently display your company logo in your office foyer, or add color and excitement to an uninspiring wall.
Whatever your desired purpose, size, or placement, from directional signage to inspirational wall murals in break rooms, our sign and graphic experts plan, produce, and professionally install the perfect vinyl signs, wall stickers, and graphics for your organization. No matter whether you already know just what sign and graphic elements you need or are looking for support with determining which signs and graphics will be exactly right for your space and business needs, our advisors provide on-site evaluations to suggest the ideal custom wall mural for your budget.
Ardon Visual Communications custom crafts wall murals made for your business, branding efforts, and commercial space. Our sign fabricators use high-impact and high-value vinyl to craft eye-catching and attractive wall graphics and lettering that can showcase any message you wish to display. With eye-catching, large-format story-telling murals to individual wall decals that deliver a message, we deliver a compelling display that works for you.
Even the floors of your business can be utilized to support your product promotion, customer wayfinding, or brand reinforcement. Vinyl floor graphics can be custom-crafted to your desires, in any shape, with any printed design.
Our vinyl floor graphics are incredibly durable and long-lasting, withstanding traffic and wear on tile, low-pile carpet, blacktop, concrete, and any other relatively smooth surface. Add interest to your lobby, literally lead the way through your facility, or assist with enforcing safety guidelines with effective floor graphics and clings.
Vinyl Graphics Options
With virtually unlimited applications for business identification and promotion, vinyl is an incredibly popular sign-making medium. Our Westwood, MA vinyl signage experts are dedicated to supporting you by providing high-quality vinyl elements, including banners, graphics, window film, wall murals, and more.
We assist with all aspects of your vinyl sign creation, from custom design to expert installation. When you need high-quality graphics that are eye-catching, impactful, and functional, Ardon Visual Communications is ready to deliver.
Popular uses for vinyl graphics include:
For complete vinyl sign customization, or for any other commercial sign, graphic, or banner element that you need for product promotion, business identification, or brand support, trust Ardon Visual Communications.
Full-Service Vinyl Graphic Shop
Unsure of layout, design, or placement? We can help! Our team of skilled graphic designers assists with all aspects of vinyl sign design. We manage the entire fabrication process, supporting you from initial design through to expert installation in your desired location.
Ardon Visual Communications uses sturdy vinyl materials, allowing you to be assured that your vinyl wall mural will be show-stopping, with a professional finish.
Vinyl can be self-installed, for a smooth finish and professional results, you should have a professional wall mural installation team to place your finished artwork.
Large vinyl clings and film are complicated to implement, in some cases leading to creases, cracks, or crinkles, leaving an unprofessional appearance. When you trust Ardon Visual Communications, should there be any complications that crop up when performing our installation, such as damage to your vinyl mural, we will replace it at no cost, as opposed to problems experienced in the course of self-install.
Free Vinyl Signs & Graphics Consultation
The specialists at Ardon Visual Communications are focused on supplying your Westwood business with outstanding sign and graphic solutions and experienced support. Our desire is to become your one-stop sign partner for all of your brand building signs and graphics desires. With a range of sign and graphic goods and services, we make sure your facility is always looking professional, engaging, and prepared to help the new, local customers your signs and graphic elements will attract day after day.
Call Ardon Visual Communications at (781) 590-3373 for your Free Consultation with a Vinyl Graphics Specialist!