Newton Upper Falls Dimensional Letters
As the economy continues to evolve and your competitors keep stepping up their game, you need an impressive alternative to traditional signage in order to outshine similar service providers. When it comes to promoting your brand creatively, utilizing our Newton Upper Falls dimensional letters is certainly a wise choice.
Ardon Visual Communications is a full-service signage provider that can give you durable and attractive dimensional letters that's fit to market your unique brand. This type of sign is also called 3D letters or raised letters. Our team is an expert on casting, molding, fabricating, and cutting these individual elements from solid materials like metal.
With us, you can trust that all our signage materials are of the highest quality. Top that with our professional signage makers' expertise, you can always be sure that your dimensional letters will look good and last for an extended period. You also won't have to worry about their condition every time. Aside from being durable, your dimensional letters can be regularly maintained by our professional team.
Regardless of your business type, dimensional letters can cater to your promotional needs. They are extremely flexible, visible, and professional-looking. Whether you own a boutique, restaurant, office, bank, hospital, church, or any other facility, Ardon Visual Communications can always create the perfect dimensional letter sign for your building.
Call Ardon Visual Communications at (781) 590-3373 for your Free Consultation!
Appealing Storefront Signage
If your business needs an upgrade or a new storefront sign, dimensional letters are attractive and durable enough to be your top pick. Ardon Visual Communications can provide you with high-quality dimensional letters that will elevate your building's look with more depth and texture, making your business exude that eye-catching, sophisticated feel.
Aside from its undeniably attractive appeal, these 3D letters are also highly versatile. You can use them on practically any application. Although they are usually directly installed onto a building's facade, you may opt to use them on reader boards, monument signs, as well as on post and panel signs.
Additionally, incorporated lighting can make these dimensional letters pop even more, attracting customers no matter the time of day. Although they are originally non-illuminated, Ardon Visual Communications can always install backlighting, halo lights, or spotlights to them, if you want.
We guarantee that with our signage, you will be able to outshine your surrounding competitors and promote your brand regardless of the time or weather. Rest assured, we will always provide attractive Newton Upper Falls dimensional letters that will draw customers day in and day out.
Attractive Indoor Lettering
Aside from being an effective storefront sign, dimensional letters extend their commendable performance as indoor signage. If you want a professional look for your building's interior, they can be extremely helpful.
At Ardon Visual Communications, we create dimensional letters out of various signage materials and provide you with the option of adding lighting. If you want to reinforce your brand as soon as your customers enter your building, you can have these signage elements installed in your reception area. Depending on your business needs or goals, you may also use them as wayfinding tools or create one big logo signage within your retail or convenience store.
These 3D or raised letters, despite the name, are not formed only into letters. You can have them molded into numbers, logos, images, or the combination of all these to create one big attractive signage. Our team of professional designers will help you come up with the most comprehensive and engaging design for your signage, making sure that your brand personality will be thoroughly reflected.
If your business needs a unique element that will make it stand out among the rest, Ardon Visual Communications can customize your Newton Upper Falls dimensional letters and ensure that your interior signage speaks of your brand while matching all the other existing decor within your facility.
Durable Dimensional Letters
Based on your brand personality and the type of business that you're running, we can create dimensional letters out of various materials. Your choices include plastic, metal, light foam, and wood.
Plastic signage can either be made out of acrylic, vinyl, PVC, or plaques. Using this type of material for your dimensional letter signs will ensure the durability, versatility, and weather resistance you need for your outdoor signage.
Metal, on the other hand, is a material most suited to be used for indoor signs. However, dimensional letters made of metal can still be installed outdoors. Aluminum, stainless steel, bronze, brass, and copper are among the metal types you can use for your signage.
Light foam is the material most commonly used on large and colorful letters. They are favored by many due to their being lightweight, durable, sturdy, and thick. Not only that, light foams are considerably affordable too!
If you don't have any idea what signage material to go for, Ardon Visual Communications can recommend the most appropriate one to ensure that your dimensional letters will serve their purpose for a long time.
Full-Service Sign Company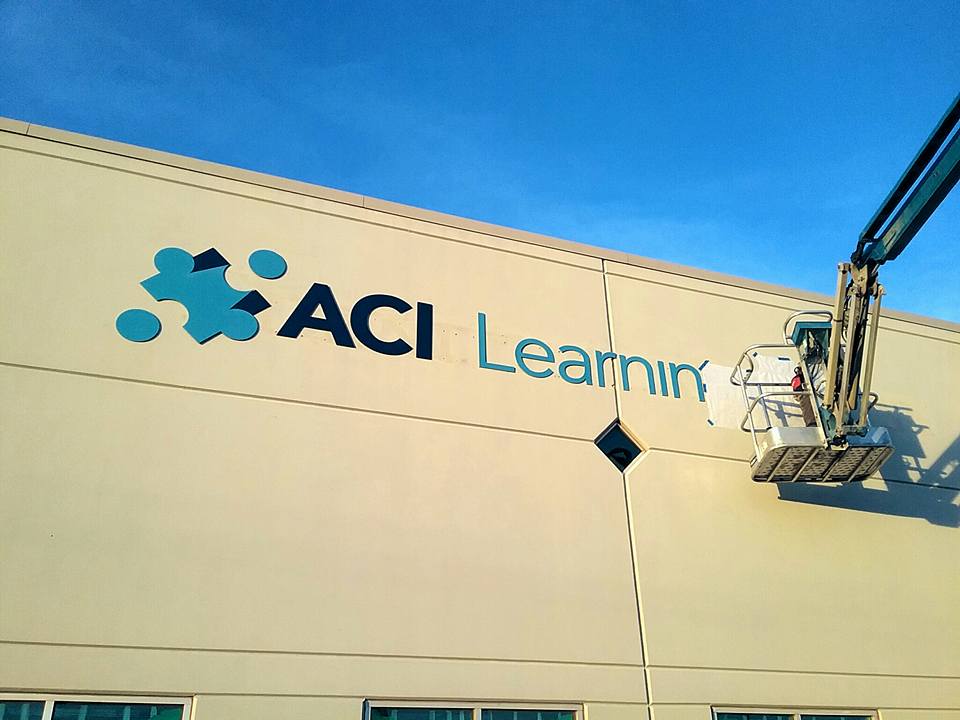 At Ardon Visual Communications, we have experts who can help you choose the best type of sign to promote your brand. We know that it's not an easy task since you have to dedicate time, patience, and research efforts to identify your business's perfect signage. The good news is, you don't have to do it all by yourself!
We have a complete team composed of expert graphic artists, manufacturers, installers, and repairmen. From the free consultation to the initial assessment of your building and up until the installation of your signage, we will handle it with the utmost meticulousness and expertise.
Ardon Visual Communications will help you develop the most appropriate design that will attract potential customers to your unique brand personality. We will also recommend the best type and material to make your signage with, ensuring that your needs and budget are considered. Additionally, we will also ensure that your signage is properly installed in a secure and durable way.
Free Dimensional Letters Consultation
We have trained each of our staff to be the most helpful and effective signage provider you will ever work with. So for any business goal you're trying to achieve, trust that our Newton Upper Falls, MA dimensional letters will be done in the most accurate, efficient, and professional way possible.
Don't hesitate to talk to us. Call us now and we can get down to business right away!
Call Ardon Visual Communications at (781) 590-3373 for your Free Consultation!