Boston Vehicle Wraps & Graphics
VIEW GALLERY
High-visibility, high-impact branded commercial vehicle wraps, graphics, decals, and magnets by your Boston vehicle wrap experts at Ardon Visual Communications get your brand seen and remembered!
Ardon Visual Communications offers custom commercial fleet wrap services including wrap design all the way through professional installation on every vehicle type, from buses, RV 's, semi-trucks, and vans to smart cars, motorcycles, riding lawn mowers, and trailers. Our wrap and graphic services not only provide a protective layer to your corporate vehicles, they also promote your company wherever your corporate vehicle can be found, whether in your own parking lot, on the road, or on the job site.
Establishments like cable installers, food trucks, dry cleaners, delivery persons, and various other experts depend on their vehicles to effectively promote their brand and identify their business. They aren't the only ones who can benefit from customized vehicle magnets, wraps, and lettering for higher business recognition. Practically any organization can take advantage of the enhanced advertising mileage that attractive, targeted wraps provide.
When you need attractive promotional or branded vehicle graphics to support your business, brand, or event, our experts have the right branded solution for you!
Call Ardon Visual Communications at (781) 590-3373 for a Free Consultation with a Commercial Vehicle Wrap Expert!
Vinyl Graphics, Partial Wraps, & Magnets
Ardon Visual Communications provides a full range of commercial vehicle wrap and graphic options, making it easy for you to find the perfect design and material for your custom wrap project!
From full-coverage designs to DOT information, we provide the vinyl vehicle solutions you need to support your goals of brand development, customer attraction, business promotion, and legal compliance. We are motivated to craft effective solutions that meet your needs.
We can help you determine which wrap solution best suits your business needs, goals, and budget.
Full Vehicle Wraps
Providing complete and seamless coverage, a total commercial vehicle wrap provides the ultimate in visibility and protection for your vehicle.
A full vehicle wrap means that you cover all body panels of your vehicle, and encase them in a printed vinyl cover that displays your unique promotional message. These can be full-color, graphic displays, or can be relatively simple designs that speak volumes. Full vehicle wraps also allow you to change the color of your vehicle without the permanence and uncertainty of how a paint job will turn out.
We have many different types of full wrap material, depending on your vehicle use, expected wear, and the length of time you intend to keep the wrap in place.
Partial Car Wraps
Target your messaging to a specific section of your vehicle to maximize your budget with partial commercial car wraps.
With partial car wraps, you still get the entire sheets of vinyl material applied to your vehicle body panels; however, with a partial design, only particular panels are chosen for wrapping. This could be a single element or a combination of your doors, bumpers, tailgate, or hood.
Partial wraps are great for building your brand without breaking the bank, although they don't provide the full level of protection for your factory paint job as a complete wrap delivers. They are a great value choice for many businesses.
Vinyl Graphics
If you are looking to add a single striking visual element, or want to spell out a unique message, individual vinyl graphics are another good option.
With individual cut vinyl graphics, we can add your unique logos, branding, graphics, or messages anywhere on your vehicle that you would like. The advantage vinyl graphics have over full or partial wraps are their ease of removal or replacement. If you want to test out a new design or only need a temporary option for promoting a special event, then cut vinyl is a great choice for meeting your unique needs.
Vehicle Magnets
Easy to apply, remove, or even relocate to a different vehicle, commercial vehicle magnets allow you to control exactly when and where your message is seen.
There are many reasons why a brand would choose magnets over permanent graphics or wraps. Some contractors represent more than one brand, allowing them to showcase the appropriate business name at any given point in time. Others may have multiple vehicles that aren't on the road simultaneously, and others still may simply want the freedom to not have their personal driving habits reflect on their brand.
With complete customization, full-color options, and specialty shapes available, we can customize your vehicle magnets to perfectly suit your design and desires.
Perforated Window Film
Ardon Visual Communications also provides many different options for finishing your vinyl graphic or wrap project. We can wrap side mirrors, bumpers, door handles, or other areas of your vehicle for maximum cohesion.
One of the most popular finishing elements is the addition of perforated window film. Perforated vinyl film displays a unique marketing message to those outside of your vehicle, while your vehicle inhabitants enjoy privacy without compromising visibility. Whether you are hauling people, supplies, or packages for delivery, perforated window clings help reduce prying eyes.
From full wraps with all the finishing elements to custom vehicle magnets or single graphics, Ardon Visual Communications is your trusted Boston vehicle wraps and graphics provider!
Professionals Wraps For All Vehicle Types
As your Boston commercial vehicle wrap company, we provide professional, attractive wrap and graphic solutions that promote your products and services and highlight your brand.
From commercial fleet wraps to simple lettering for a semi-truck, we understand your unique needs and deliver customized, effective signage solutions. We understand that your wrap is a valuable tool for your business and that it is only effective as the design, production, and application of the graphics.
As a full-service wrap provider, we ensure that you have the right design, appropriate vinyl product, and high-quality installation you need to create a professional, impactful, and lasting impression on those who see your corporate vehicles.
Our vehicle wrap services include:
We are dedicated to delivering high-quality, branded business solutions, including all types of signs and graphics. Whether you need complementary outdoor signage, cohesive and supportive indoor signage, or are looking to promote your business and brand off-site, we have the right signage solution for you.
Attractive Wraps for Your Entire Fleet
Many businesses utilize a variety of corporate vehicles to support their business operations.
We create cohesive, attractive wrap designs that can be applied to multiple vehicles in support of your branding and visibility goals. We can customize your design to perfectly suit the different types of vehicles in your fleet, with coordinating wraps for your cars, vans, trucks, trailers, boats, or any other commercial vehicles.
Fleet wraps also provide security to homeowners when businesses make house calls. Seeing your branded vehicle parked in front of their home, reassures them that you are who you say you are, making the initial interaction more comfortable for all parties involved. Whether you are a delivery vehicle, repair technician, electrician, plumber, handyman, landscaper, or any other type of service or mobile business, fleet vehicle wraps are a clear and obvious choice for brand support.
Full-Service Vehicle Wrapping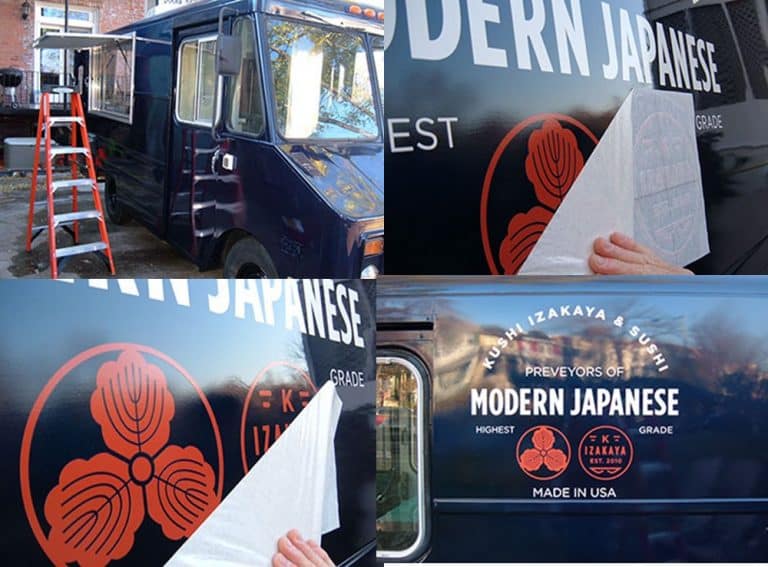 We are your full-service Boston vehicle wrap company, providing every aspect of wrap design, production, and expert installation.
We provide attractive graphic wrap designs that support your goals, branding, and ideas. From working with your existing branding and signage guidelines to creating something entirely new, our wrap designers are experienced and talented at creating impactful, effective wrap layouts.
We fabricate your vinyl wrap in-house, using the appropriate materials for your project and desires. We always work to minimize waste in an effort to reduce both the cost of your wrap and our impact on the environment. Our project manager ensures that all of your elements are produced properly and attractively for your satisfaction.
For vehicle wraps and graphics that we produce, we also provide installation, including preparing the already clean surface of your vehicle for application, ensuring lines are as clean and straight as possible for an attractive overall appearance, and using our experience to apply your graphics without bubbles, rips, or warps.
We hope to earn your business as your complete commercial signage provider and would love to discuss how we can work together on all of your commercial sign and graphic projects.
Free Vehicle Wrap Consultation
From full wraps for your entire fleet to a single vehicle magnet, we are ready to tackle your vehicle wrap or graphic project with speed and skill. As your Boston, MA vehicle wrap experts, we understand how important it is to create consistent exposure for your brand in your local community. Adding customized vehicle wraps and graphics to your marketing arsenal is a fantastic way to improve your visibility. We are excited to discuss the vehicle customization options available for your business and brand.
Call Ardon Visual Communications at (781) 590-3373 for your Free Consultation with a Vehicle Wrap Specialist!